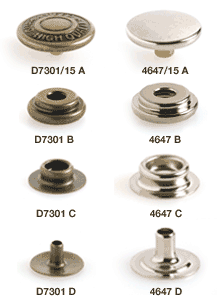 The Ring Spring Press Fastener from MORITO
High quality precision-made press studs you can rely on for
performance and safety.
Strong opening and closing action for heavy duty applications such
as straps, wristbands, outerwear, plastic and leather goods.
Choose from a range of sizes with varying opening/closing actions.
Choose Brass based (washable) or Steel based (non-washable)
depending on your requirements.
Select the colour from our wide range of
finishes
;
Customised logos available to order.