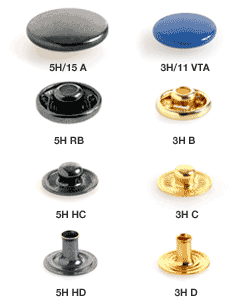 The Double S-Spring Press Fastener from MORITO
High quality precision-made press studs you can rely on for
performance and safety.
Most commonly used on outerwear, plastic & leather goods.
Choose from a range of sizes to suit light-weight - heavy-duty applications.
Choose Brass based (washable) or Steel based (non-washable)
depending on your requirements and from a wide range of
finishes
.
Choose from metal, nylon, enamelled & rubber caps with a standard design
or customise the product with your own logo.